One of my favorite parts of the brand process with my clients is selecting their brand fonts.
Remember the scene in the movie Pretty Woman where Vivian goes shopping on Beverly Hills' Rodeo Drive? She asks one of the saleswoman how much something costs. Instead of helping her, the saleswoman snubs her because of what Vivian is wearing.
Do you remember that scene? Of course you do!
Now what if I told you that your fonts that you are using for your brand could be giving the wrong impression. That's right! The fonts in your logo, website, social graphics, and even marketing materials could be all wrong!
Using the wrong fonts for your brand could be giving the wrong impression. And this little mistake could be costing you money!
And just like Julia Roberts character says, it could be: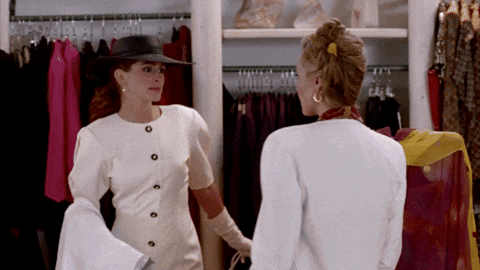 So many times I notice that fonts in a brand are super trendy, ignored or worse… There are too many fonts being used.
The right font can elevate a brand's status to high-end and exclusive. While the wrong font can make it feel cheap and cringeworthy.
Choosing the right font is like choosing the right outfit for your brand.
The easiest way to choose fonts is to choose ones that reflect the overall feeling you want of your brand. Let's say you want your brand to be sophisticated and high-end. Then you wouldn't use a font that is decorative, bubbly, and bouncing looking. Instead you would choose more of a serif font.
With hundreds of thousands of fonts available online, how do you select the ones to use in your brand? Easy, peasy! I am going to break it down for you.
5 types of fonts
SERIF FONTS: have 'feet' on the ends of the letters. They give a sophisticated, classic and fashionable feeling.
SANS SERIF FONTS: are fonts without the serif 'feet' and are most commonly used fonts due to their simplicity. They make provide a clean, simple and chic feeling.
SLAB SERIF FONTS: are a mix between serif and sans serif fonts. They have a thicker block style 'feet' on their ends. They feel more modern, confident and bold.
SCRIPT FONTS: are typically inspired by traditional calligraphy by having a flowing and connected style. They give a romantic, elegant and feminine feeling.
HANDWRITTEN FONTS: are inspired by everyday penmanship, these organic fonts feature their artsy, carefree and trendy style. They make a brand feel playful, casual and creative.
Here is a chart with some of my favorite fonts.
GO AHEAD & SAVE IT!
Like one of the fonts in the examples?
GET THEM HERE:
PLAYFAIR • SOURCE SERIF • THEANO DIDOT • ROBOTO • MONTSERRAT • OPEN SANS • ROCKWELL • MUSEO • TRIVIA SLAB • CHALLISTA • CAROLYNA • EYE CATCHING • THE SKINNY • LEMON TUESDAY • JUST LOVELY
SAVE FOR LATER! PIN THIS: